Skip to Content
Punjabi Split Pea Curry Soup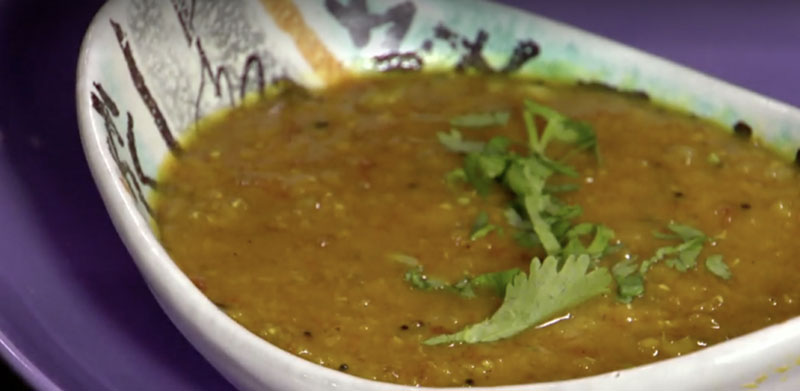 Course Soup
Servings 4 servings
Author Rose Kumar M.D.
Ingredients
1 cup yellow split peas Chana Dal
3 cups of water
2 tomatoes chopped
2 to 3 tablespoons of oil
1-inch minced ginger
4 cloves of chopped garlic use at least 10 minutes after chopping
1 medium onion chopped
1 tsp cumin seeds
1 pinch asafetida
¾ tsp turmeric powder
½ tsp garam masala
1 tsp coriander powder
1 tsp fennel powder
1 tsp salt or more to taste
2 tsp dried mango powder available at the Indian Grocery Store
1 tsp dried fenugreek leaves available at the Indian Grocery Store
1/8 cup lemon juice
1/3 bunch chopped cilantro leaves and stems
Instructions
Soak the split peas overnight and pressure cook them for 5 minutes once the pressure begins releasing in your cooker or boil them in water for 40 min or until soft.
In a separate pan, add oil. Once it is heated, add cumin seeds and asafetida. Add garlic, ginger, and onion and fry till the onion is soft and translucent. Then add the remainder of the spices above except fenugreek leaves. Mix and heat for 5 to 6 minutes, then add tomatoes. Once tomatoes are heated and most of the fluid is evaporated, add the softened split peas and fenugreek leaves. Allow to fully incorporate and boil for 5 to 6 minutes. Add lemon juice. Garnish with chopped cilantro and serve with rice.
Evidence Based Integrative Medicine