Skip to Content
Butternut Squash Soup with Turmeric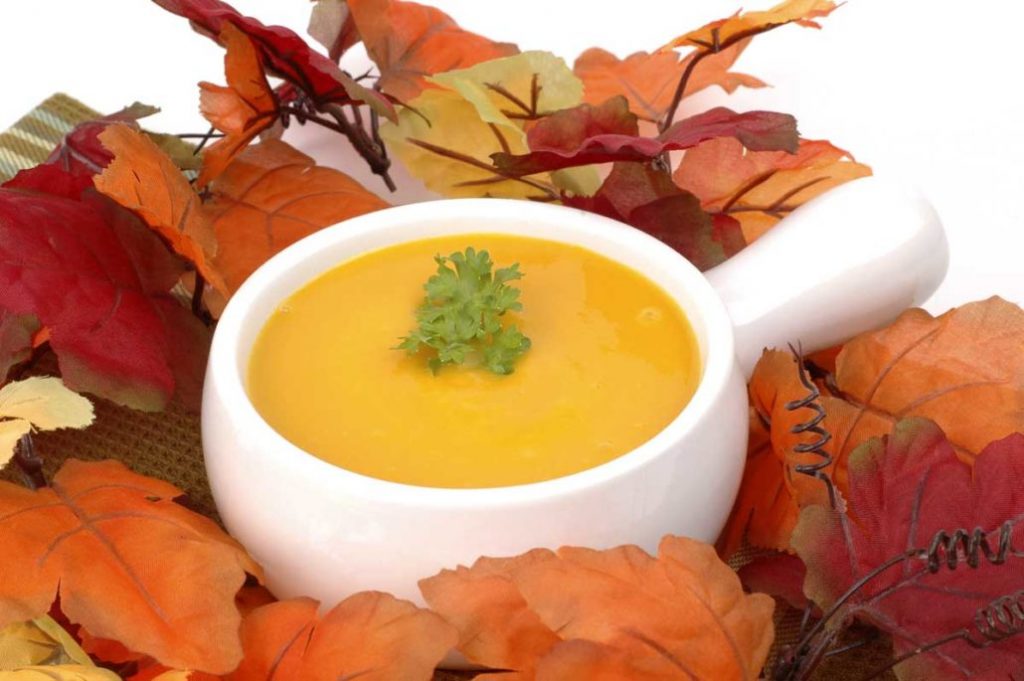 Use organic ingredients if possible!
Course Soup
Cuisine American
Prep Time 1 hour
Cook Time 10 minutes
Total Time 1 hour 10 minutes
Servings 4 People
Ingredients
1 butternut squash or any orange squash or pumpkin
1 apple or 1/2 cup of applesauce
2-3 tbsp olive or coconut oil
1.5 inches fresh ginger chopped
1 large onion chopped
1 tsp turmeric
1 tbsp coriander powder
1/2 tsp cumin powder
1/4 tsp black pepper
12 cloves cardamom crushed and peels discarded
4 cloves garlic sliced 10 minutes before cooking
1 tbsp maple syrup or jaggery
1 1/2 tsp iodized sea salt
1/2 tsp cayenne pepper
2-3 cups water depending on the thickness of the soup
1/3 cup cilantro chopped
1 lemon cut in half
Instructions
Bake the squash on a cookie sheet in a 375-degree oven for approximately an hour till soft. Once cooled you can scoop out the flesh and discard the seeds. This can be done ahead, if you bake it the day before, store it in the refrigerator until you are ready to make the soup.
Heat oil in a dutch oven or 3 qt soup pot but do not let it smoke. Add turmeric, black pepper, and cardamom and let them sizzle for a few seconds. Just until the turmeric color darkens a bit, a maximum of 20 seconds. Don't let it burn. Add onions, ginger, garlic, and stir. Let the onions sweat and fry them till they become translucent. Add apple and let it soften for 5 minutes. Then add the remaining ingredients, including the squash. Add water to the desired thickness.
Bring to a boil, reduce to a slow simmer for at least half an hour. Use an immersion blender to blend smooth if you desire.
Spritz with fresh lemon just prior to serving.
Recipe Notes
*resting the garlic for 10 minutes before cooking to allow it to oxidize, activates its anti-cancer properties.
If you cook it prior to a 10-minute rest after chopping, its anti-cancer properties are not activated.
Evidence Based Integrative Medicine