Skip to Content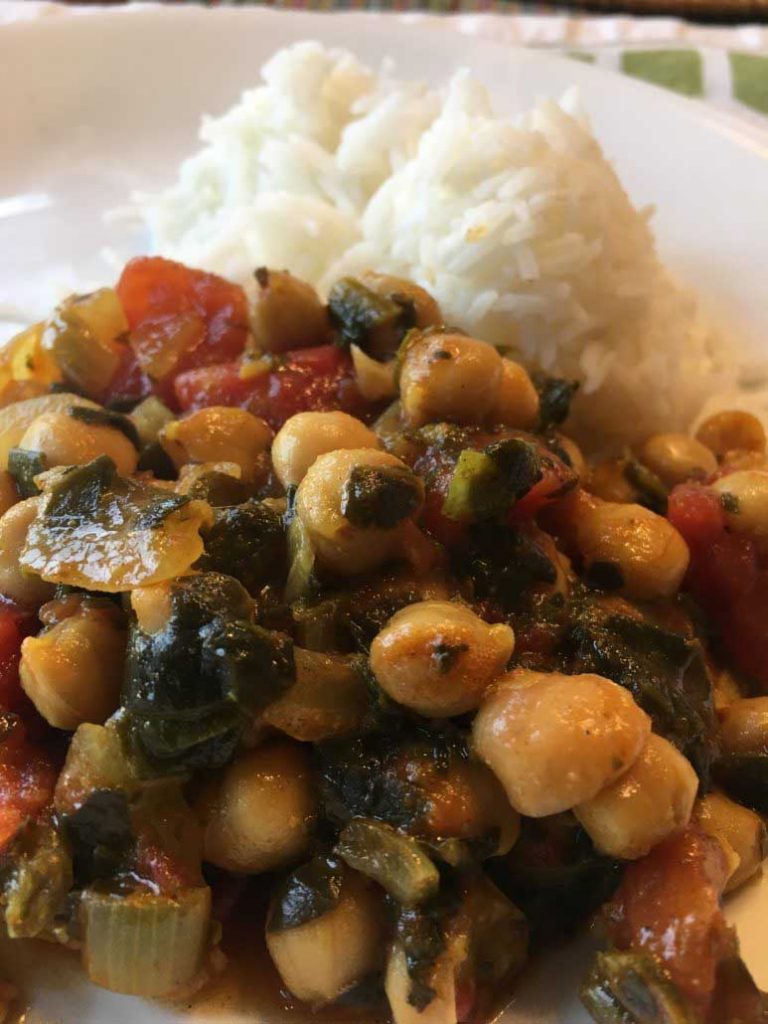 Course Main Course
Cuisine Indian
Servings 4
Author Rose Kumar M.D.
Ingredients
1 cup dry garbanzo beans or 3 cans cooked
1 can chopped stewed tomatoes or 2 med tomatoes roughly chopped
1 large onion, finely chopped
3 cloves garlic, chopped and rested for 10 min
3/4 tsp turmeric powder
pinch black pepper
1 tsp coriander powder
1/2 tsp garam masala
1/2 tsp cumin powder
pinch cayenne pepper to your tolerance
1/2 cup water
2-3 TBSP olive oil
1 tsp jaggery or brown sugar
4 cups spinach
1 tsp iodized salt
1-inch ginger, peeled and finely chopped
Instructions
Soak the garbanzo beans in 4 cups of water for 6-8 hours. Drain water and add to pressure cooker with 4-6 cups of water and pressure cook until soft for approximately 12 minutes. Alternatively, drain the liquid out of the cans of the garbanzo beans and place it to the side.
Add oil to a saucepan and add turmeric and black pepper. After 20-30 seconds, once it begins to sizzle, add onion garlic, and ginger. Stir and roast until onions are translucent and then add the tomatoes and spices. Stir until all the ingredients are incorporated.
Add garbanzo beans and salt. Mix together and heat for 15 minutes until boiling and the sauce has become slightly thick. You can add more water to adjust the thickness if you desire. Add more salt to taste.
Add jaggery powder or brown sugar. Once you have the desired consistency and the fresh spinach and place the lid on your pan to wilt the spinach.
Garnish with cilantro and a squeeze of lemon juice.
This tastes great with rice on the side and a dish of sauteed green vegetables such as kale or collards.
Evidence Based Integrative Medicine