Skip to Content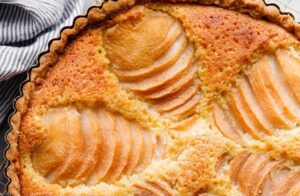 Servings: 6
Ingredients
1 cup almond flour
1/2 cup organic unbleached all purpose flour or gluten free flour blend
3/4 tsp baking powder
1/4 tsp salt
1/2 cup sugar or maple syrup
1 egg or flax egg*
1/3 cup ghee or coconut oil, melted and cooled to room temperature
1 tsp vanilla
1 Tablespoon orange juice
1/2 tsp grated orange zest
1/4 tsp grated nutmeg
1/3 tsp cardamom seeds
3 small ripe Bartlett pears peeled and cut in half lengthwise
1/2 tsp powdered cinnamon
1/4 cup of whole cranberries (optional)
*Flax egg: Place 1 tablespoon of flax meal 3 tablespoons of water in a cup.  Let sit for 10 minutes then mix and add to replace the egg in your recipe.
Instructions:
Heat oven to 350 degrees.
Mix the first 4 ingredients in a mixing bowl. Whisk the egg (or flax egg) in a separate bowl with the sugar with an electric mixer or briskly with a hand whisk till fluffy. Add the ghee or coconut oil.  Continue whisking for an additional 30 seconds to a minute.  Add vanilla, orange juice, orange zest, nutmeg and cardamom seeds to the mixture, then add liquid ingredients to the dry ingredients and mix with a spoon until incorporated and a soft dough forms. If the dough is too sticky, add an additional few tablespoons of all purpose or gluten free flour till the stickiness resolves.
Next, scoop out the seeds from the peeled and cut pear halves with a melon scooper or very carefully with a knife.
After spraying or brushing a rectangular 10" or circular 8" tart pan with olive oil, dump the dough into the pan and press down with floured fingers to cover the pan pressing it so it rises up the sides of the tart pan. The dough should cover the entire pan and sides evenly.  Arrange pears round side up in a starburst pattern in the circular, or lengthwise in the rectangular pan and firmly push them down into the dough without breaking them. For a more festive look, place cranberries around the pears to decorate the tart.  Press them gently into the dough. Sprinkle the pears with powdered cinnamon and place in the oven for 30 to 40 min or till dough is a caramel brown color.
Remove from the oven and cool. Cut into slices and serve with a non-dairy ice-cream of your choice.
This tart will have the consistency of a cookie contrasted with the softness of the pears.  Eaten along with dairy free ice-cream, the different textures and complementary flavors create a luxurious and luscious holiday dessert that is easy to make and visually beautiful.
Evidence Based Integrative Medicine