Skip to Content
Pecan Berry Pie (*Vegan* Gluten-Free)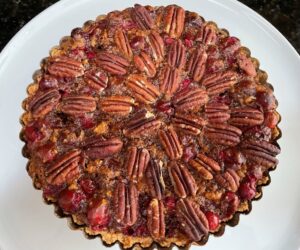 Adapted from My New Roots by Sarah Britton Ingredients
Ingredients 
Crust
1 1/2 cups rolled oats
1/4 cup coconut oil (or ghee for non-vegan version)
1/4 cup pure maple syrup
1/4 tsp fine sea salt
1/2 tsp freshly grated nutmeg
Filling
1/2 cup barley maple syrup
1/8 cup pure maple syrup
2 tablespoons tahini or almond butter
1 tsp vanilla extract
1 tsp ground cinnamon
1 tablespoon arrowroot powder or cornstarch
1 1/2 cups raw pecans
1 cup cranberries
1 cup frozen or fresh blueberries
1/2 cup frozen fresh pitted cherries
Instructions
Preheat oven to 350 degrees F
Make the crust. Put the oats in a food processor and blend on the highest setting to create a rough flour. Add the coconut oil, maple syrup, salt, nutmeg and blend to combine.  When the dough comes together, remove it from the food processor, gather it into a ball and put it in the center of a 9-inch tart pan or ceramic tart pan.  Using wet hands, press the dough out to the edges and up the sides of the pan.  Prick holes in the dough with a fork.  Bake the crust for 10 to 15 min until golden.  Remove it from the oven and let it cool to room temperature.
Make the filling: Put the first six ingredients in the food processor and blend until smooth. Add 1 cup of the nuts and pulse to chop (do not fully blend them as you want a chunky filling). Fold in the berries into the filling.
Pour the filling into the cooled crust. Decorate with the remaining pecans and add a few more to create a star burst shape on the tart and bake for 30 to 40 min till bubbling and brown.
Let the pie cool completely and serve.
 It is delicious by itself and also with a small scoop of non-dairy vanilla ice cream.
This is a beautiful, antioxidant rich, not too sweet, and very easy pie to make for any occasion, and especially festive for your holiday table.
*As always, please make sure ALL of your ingredients are organic. 
Evidence Based Integrative Medicine