Skip to Content
Dr. Kumar's Organic Vegan Lasagna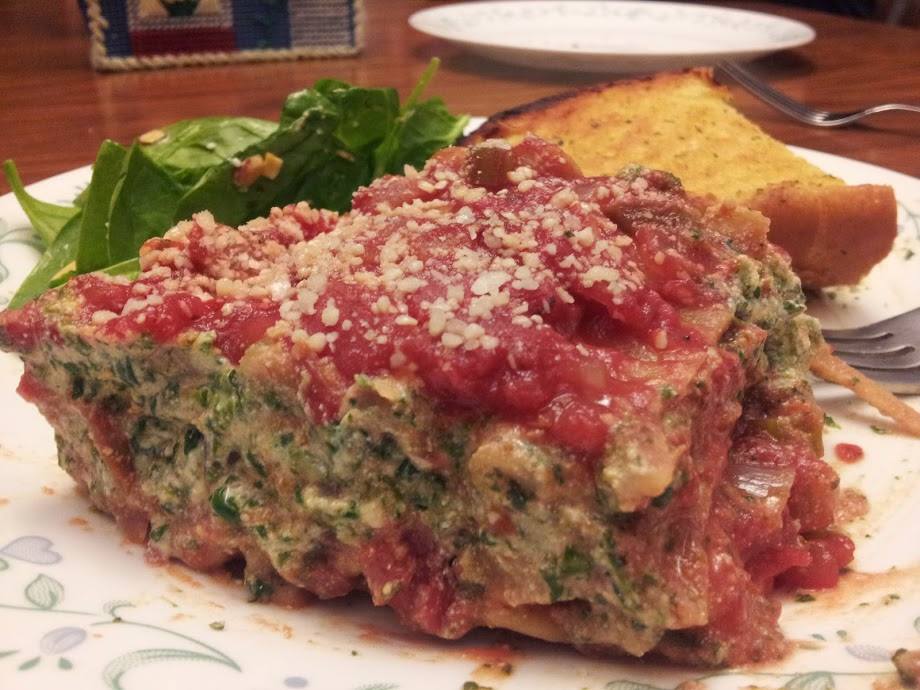 Course Main Course 
Cuisine Italian 
Servings 12 servings
Ingredients
2 15 oz containers of organic extra firm tofu
1 tsp salt
1 large onion
6 cloves of garlic
1/2 tsp fennel seeds
1/4 tsp grated nutmeg
1 tsp Italian seasoning
1/4 cup sunflower seeds
1 16 oz bag of frozen chopped spinach
1 large beet
4 medium carrots
1 medium sweet potato
1 medium zucchini
12 lasagna noodles
2 16 oz jars of prepared pasta sauce
3 tablespoons olive oil
1 tablespoon of nutritional yeast
Instructions
Heat oven to 375 degrees.
Boil water in a pasta pot with a pinch of salt and place lasagna noodles in it for 2 to 3 min. Remove and set aside on a plate. Don't stack them over each other or they will stick.
Defrost spinach by placing it at room temperature in a bowl till it thaws. Then squeeze all the water out of it and discard the water.
Chop the garlic and let sit for 10 min
Finely chop the onion. Heat 2 tablespoons of oil in a skillet and add onions and garlic. Roast till translucent. Turn off heat.
In a food processor, blend the two containers of tofu with salt and nutmeg till smooth and creamy inconsistency. Add to spinach and mix together with Italian seasoning and sunflower seeds. Add the roasted onions and garlic and mix with a wooden spoon. Set aside.
Grate the beets in the food processor, place them in a separate bowl
Grate the sweet potatoes and place in a separate bowl
Grate the zucchini and place in a separate bowl
Grate the carrots and place them in a separate bowl.
Add a tablespoon of olive oil to the bottom of the lasagna dish and spread along the bottom and sides. You may need more oil depending upon the surface area of your dish. Mix the fennel with the pasta sauce and spread 1/2 cup of in the bottom of the dish. Place the noodles at the bottom covering the pasta sauce. Add tofu spinach mixture to the dish and spread with a spatula. Layer the beets over the tofu mixture, then layer the sweet potato, then zucchini then carrots. sprinkle with a 1/2 tsp of salt over the top. Add 1 jar of pasta sauce with fennel on top of the top layer of vegetables and spread with a spoon. Layer lasagna noodles on top and the remainder of the tomato sauce on them. Sprinkle the top with nutritional yeast. Cover with foil and bake at 375 degrees for an hour. Let sit for 10 min after removing from the oven to let the lasagna set.
Cut into 12 pieces and serve.
Recipe Notes
You need to organize your ingredients and can grate the vegetables the night before. Once you have all your ingredients organized and the vegetables lined up, this is a super easy dish to make. Bon Appetite!
Evidence Based Integrative Medicine