Skip to Content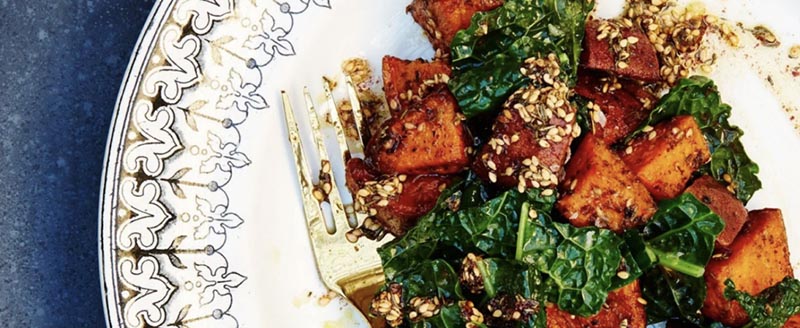 Servings 4
Ingredients
1 yam peeled and cubed
3 large collard leaves ribs removed and sliced into horizontal strips
1 medium shallot peeled and diced
1 clove garlic chopped
1/2 tsp black cumin seeds Kalaongi – available at an Indian grocery store or online
1/4 tsp asafetida powder available at an Indian grocery store
1 tsp olive oil or ghee
1/2 tsp Himalayan salt
Instructions
Heat oil/ghee in a frying pan.
Add black cumin seeds and asafetida powder till sizzling for about 30 seconds, then add shallots and garlic and fry till they are translucent, about 5 minutes, stirring occasionally to prevent sticking.
Add cubed yams. Stir till the oil is incorporated and coats the yams, then reduce to medium heat and place lid on the pan for 5 minutes.
Lift the lid and stir so the yams don't stick to the pan. You may need to add a splash of water and place the lid back on till yams are partly softened.
Add the collard leaf strips to the yams. Stir to incorporate and add salt.
When collard leaf strips soften, remove the lid and serve.
Evidence Based Integrative Medicine