Skip to Content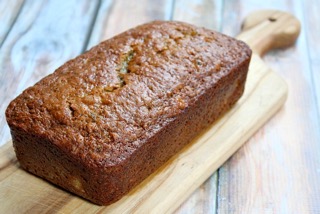 The Best Vegan/Gluten Free Organic* Zucchini Bread
Makes 2 loaves
*Use organic ingredients!
Course Dessert
Prep Time 20 minutes
Cook Time 45 minutes
Total Time 1 hour 5 minutes
Servings 12
Author Rose Kumar M.D.
Ingredients
1/2 cup olive oil
1 cup almond milk
1/2 cup applesauce
3/4 cup jaggery sugar(available at an Indian grocery store and you
may substitute brown sugar.)
2 tsp vanilla
2 cups of grated zucchini
Dry Ingredients
2 tsp ground cinnamon
1/4 tsp nutmeg
11/2 c oat flour (grind 1 and a 1/2 cups of rolled oats in a food processor till flour forms)
3/4 cup almond or coconut flour
3 tsp baking powder
1 tsp baking soda
2 tsp mesquite or maca powder
1/2 tsp salt
1/3 cup chopped pecans
1/4 cup raisins or currants
Instructions
Heat oven to 350 degrees.
Mix the dry ingredients in a bowl
Mix the first 5 ingredients together in a separate bowl.
Combine the wet with the dry ingredients and mix till incorporated.
Add the grated zucchini and mix gently.
Grease 2 bread pans. Add 1/2 the batter in each pan and place in the oven.
When a knife or toothpick inserted comes out clean, in approximately 45 min the bread is done.
Evidence Based Integrative Medicine