Skip to Content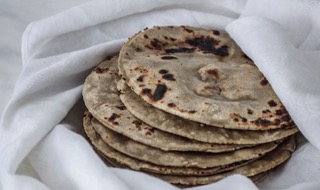 Buckwheat Health Benefits: Buckwheat is a seed, not a grain, and does not contain gluten. It is high in protein, fiber, and amino acids such as lysine and arginine. It also contains B vitamins and makes an excellent alternative for people who are sensitive to gluten or oats.
Servings: 5 servings
Ingredients
2 cups of buckwheat groats
2 tsp of carom seeds ajwian
1 tablespoon of ghee or melted coconut oil
1 tsp salt
3/4 cup of warm water and more as needed
Instructions
Grind the buckwheat groats at maximum speed in a high-speed blender like a Vitamix till they turn into flour, about 1 to 2 minutes.
Pour into a mixing bowl and add the rest of the ingredients.
Knead into a dough. It will be sticky at first but keep gathering the dry flour at the bottom and sides of the bowl and incorporate it into the dough ball.
Add more a bit more water as needed to make a doughy consistency that does not stick to your fingers.
Let the dough ball rest for 30 min with a cloth or cellophane cover over the bowl.
After 30 min, pluck a lump of dough and swirl it between both of your palms to form a 1 and 1/2 inch wide and 1/2 inch thick ball. You should be able to make about 10 balls with the dough. Cut a 6×6 inch square of unbleached wax paper and brush some ghee or coconut oil on one side of the wax paper squares.
Take a tortilla press and open it. Place one square on the bottom with the greased side facing up. Place a dough ball in the center and place another wax paper square on top of the dough ball with the oiled surface towards the ball. Press the ball till it is flattened into a thin 3 to 4-inch disk.
Meanwhile, take a flat roti pan (available from any Indian grocery store), a cast iron pan, or a heavy-bottomed stainless steel pan. Heat it on medium-high. Plop the roti on the heated surface of the pan till the top forms small bubbles. After a few minutes, flip the roti over. Let both sides brown slightly. You can keep flipping it on either side till no raw dough is visible.
Place the roti on a plate and moisten its surface with 1/4 tsp of ghee. Keep piling the hot Rotis onto the stack as they cook and cover them with a bread cloth to keep them warm. Serve with Dal or Roman lentils.
Evidence Based Integrative Medicine