Skip to Content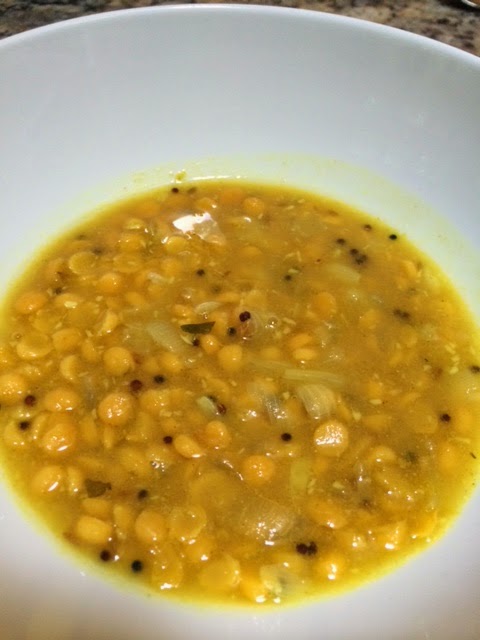 A prepared cup of this exotic and delicious lentil soup with a half cup of rice makes a filling and nourishing meal, especially when accompanied with stir-fried, chopped kale or collards. It has great cancer-fighting and antioxidant properties as well.
Asafoetida is an anti-flatulent, digestive aid, and anti-inflammatory. It is used in Indian curries and settles the stomach, especially if spicy. It has a smoky flavor and can overpower a dish so only a pinch fried in oil is needed to flavor a dish.
Course Soup
Cuisine Indian
Prep Time 10 minutes
Cook Time 20 minutes
Total Time 30 minutes
Servings 4
Author Kalpana (Rose) M. Kumar, M.D.
Ingredients
1 cup Chana Dal
3 cups water
1 whole medium onion finely chopped
2 cloves garlic minced
1/2 inch ginger root minced
2 tsp ghee or clarified butter
1 tsp salt
1 tsp cumin seeds
1/2 tsp cumin powder
1/4 tsp cayenne powder
1 tbsp curry leaves
1/4 tsp asafoetida powder
1 tbsp powdered coconut or 1T coconut milk
1/2 lemon, for squeezing
cilantro leaves to garnish
2 cups cooked rice (4 servings)
Instructions
Heat ghee in a saucepan and add mustard seeds, cumin seeds, asafoetida, curry leaves, garlic, and ginger till mustard seeds begin to pop and turn gray. Then add onion and saute for 2 to 3 minutes. You may need a bit more ghee to coat this mixture. Add washed chana lentils, the coriander, cumin and cayenne powder, salt, and water, and boil till soft (about 20 minutes). Add coconut powder or milk. Garnish with chopped cilantro leaves and a squeeze of lemon juice.
Recipe Notes
Many of these ingredients are available at your neighborhood organic grocery store or an Indian grocery store.
Evidence Based Integrative Medicine