Skip to Content
Dr. K's Organic Almond Milk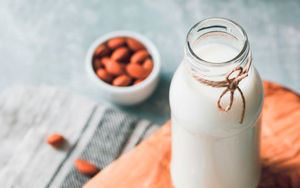 This milk is delicious when tasted right after it is squeezed. I have also made golden milk with it. Add ¼ tsp of turmeric, 2 to 3 crushed cardamom pods, and a few strands of saffron to a cup of almond milk. Heat and add honey to taste and enjoy.
Make sure the almonds and dates are organic.
Servings 4 cups
Author Rose Kumar M.D.
Ingredients
1 c almonds soaked overnight
3 c filtered water
2-3 dates
1/2 t vanilla extract (optional)
Instructions
Discard the water after soaking the almonds in the morning. Put almonds in a blender or Vitamix with the remaining ingredients. Blend for 2 to 3 minutes on high.
Place the nut bag in a pitcher or a 4 cup measuring cup and pour the blended mixture through. Squeeze the almond milk out of the nut bag into the pitcher or measuring cup till all that remains in the bag is moderately dry almond pulp.
Pour the milk into a glass bottle or mason jar and store it in the refrigerator. It will last about 1 week.
There are scores of recipes on the internet for almond pulp that is leftover from making almond milk. https://www.pinterest.com/torriepattillo1/almond-pulp-recipes/?lp=truehttps://www.culinarynutrition.com/uses-for-almond-pulp/
Evidence Based Integrative Medicine