Skip to Content
Nourishing Vegetable Broth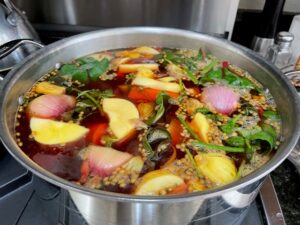 I have made a gallon of this broth every week for the past month. I use only organic vegetables and have found that the fresher they are, the more nourishing the broth tastes. It is an infusion of an alkaline, nutritious, electrolyte replenishing broth that is cancer-fighting, anti-inflammatory, and Yin supporting.
You can use it as a base for soups, stews, lentils, or just heat it up to hydrate on a cold day.
If you don't have all of the ingredients, use whatever vegetables you have in your refrigerator but do not skimp on garlic, ginger and onions
I hope you love it as much as my family and I do.
Servings 1 gallon 
Author Rose Kumar M.D.
Ingredients
6 cloves garlic
2 inches ginger skin on, chopped
2 onions chopped with skins on, tops and bottoms cut off
1 bunch Swiss chard roughly chopped
3 carrots roughly chopped with tops off
1 large turnip quartered, with top and bottom cut off
1 medium parsnip peeled and roughly chopped with top and bottom cut off
2 medium orange beets quartered, tops and bottoms cut off
1 bunch parsley rough chopped with stems
2 red potatoes quartered, unpeeled
1 small red potato quartered, unpeeled
1 small sweet potato chopped, unpeeled
12 peppercorns
2 bay leaves
2 tsp salt
1 tsp wakame flakes
1 gal water
1 tablespoon of coriander seeds
1/2 tsp of turmeric powder 
Instructions
Put all ingredients in a Dutch oven or large pot and boil on medium-low heat for 2 hours.
Strain the broth and compost the remaining vegetables.
Evidence Based Integrative Medicine