Skip to Content
Dr. Kumar's Curried Red Lentils (Dal)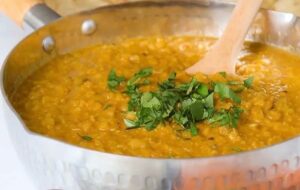 Servings: 8 (or 2 meals for a family of 4)
Ingredients
1 cup of split red lentils or Masoor Dal (organic dal can be purchased at a health food store or Indian grocery store), washed and drained a few times in filtered water.
4 cups of water
3/4 tsp turmeric powder
2 tsp coriander powder
1 tsp salt or more to taste
1 tsp black salt (kala namak)
2 tablespoons of peeled and grated ginger
1 can of unsalted stewed tomatoes or two medium chopped tomatoes
10 curry leaves (available at any Indian grocery store)
1 small onion or 1 medium shallot thinly sliced
1 tsp cumin seeds
1/8 tsp asafoetida
1 tablespoon olive oil or 1 tsp of ghee
1 tablespoon lemon juice
1/2 cup of chopped cilantro
Instructions:
Combine the first 6 ingredients and boil on medium heat till the lentils are soft but not mushy. In a separate frying pan, heat up the olive oil or ghee, add cumin seeds and asafoetida till the cumin seeds are brown but not burnt.  Add curry leaves and sliced onion.  Fry these till the onions soften stirring a few times to incorporate the ingredients for about 3 to 4 minutes.  Add all onion and spice mixture to the dal and mix together gently with a spoon.  Add 1 tablespoon of lemon juice and incorporate.  Garnish generously with chopped cilantro.
Serve with basmati rice.
Lentils are the best source of protein for any meal, especially dinner.  They are nutrient dense, low in calories and have ample amounts of arginine, an amino acid that facilitates formation of Nitric Oxide in the blood stream.  Nitric oxide dilates blood vessels, lowering blood pressure and increasing blood flow and oxygenation of tissues.  Lentils are a staple food in India and Mediterranean countries and are thought to be the main reason people who consume them regularly live longer and healthier lives.
This curried lentil soup is called Dal and can be cooked in 20 minutes or less. It is a nutritious and convenient dish for any night of the week.
Evidence Based Integrative Medicine