Skip to Content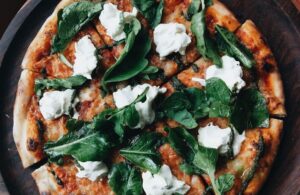 Makes one 14 inch pizza
Serves 4 – 5
Ingredients
2 cups organic spelt flour and a bit more for dusting*
3/4 tsp baker's yeast
1/2 tsp sugar
1/2 tsp salt
1 Tbsp coconut or olive oil
3/4 cup lukewarm water
Toppings of your choice: 
Organic ready-made pasta sauce
Olive
Sliced onion
2 shallots sliced
A handful of mushrooms
Red or green bell pepper chopped in chunks
A few tablespoons of sheep or goat milk feta
2 Tbsp of fresh basil leaves
4 cups of organic arugula
1/2 tsp of fennel
Drizzle of balsamic vinegar
Instructions:
Making the dough:
Heat water to body temperature.  It should feel comfortable to the touch.  If it is too hot, add filtered tap water to bring it to lukewarm temperature.  Pour 1/3 cup in a bowl and add 1/2 tsp of sugar. Mix with a spoon and let sit for 5 minutes. The yeast will begin to bubble. Meanwhile, mix spelt flour with salt, oil and water in a bowl. Add the risen yeast to mixture and incorporate with your hands to form a dough. Don't over knead as the spelt becomes tough if worked too much. Don't worry if the dough is a bit sticky.
Cover with a cloth or towel and let place in a warm area of your kitchen and let it rise for at least 2 hours or longer. (You can make the dough in 10 minutes in the morning and make a pizza for dinner in the evening.)
When dough is ready, heat the oven to 500 degrees.
Scatter some flour on a clean countertop in your kitchen and plop the dough on it. Flatten with your fingertips making a circle as you go. You can also use a rolling pin but don't press down with it too much. Use it lightly to even the dough into a 12 to 14 inch circle, or bigger if you want a thin crust
Lift carefully from the counter onto your pizza baking pan (a round pan with holes in the bottom designed for making pizza). If your dough is hard to lift off the counter, you can sprinkle some flour on the surface of it and fold it in half before lifting it. Place on the pizza pan. Once the folded in half crust is placed on the pan, unfold it to occupy the entire pan and push down the edges a bit if needed so the rolled pizza dough fits in the pan.
You can now apply your toppings.
  Applying the toppings:
I use prepared Organic pasta sauce and sprinkle 1/2 tsp of fennel seeds on the sauce. Spread it in circular motions with a spoon leaving 1/2 inch circumference without sauce. Then add other toppings of your choice.
I fry shallots or onions, cut up bell peppers, sliced garlic and mushrooms in some olive oil and add 1/2 tsp of salt and fry until translucent in a frying pan. Scatter these on top of your pasta sauce. Add dollops of goat cheese or crumbled sheep milk feta. Put in the preheated oven for 10 minutes or when crust begins to brown.
I top my pizza with 4 cups of organic arugula and drizzle some balsamic vinegar over it.
  It is ready to slice and eat. This is a pure treat after a hard days work!
*Why spelt?
The gluten spelt contains has a different molecular structure than the gluten in modern wheat, and is more fragile and water soluble, making it easier to digest. Spelt is also higher in fiber than wheat and the extra fiber aids in the digestion of gluten. For those who are gluten sensitive (not celiac), Einkorn flour is better yet. It is not gluten free but much better tolerated in people who are gluten sensitive. Jovial foods is one of the best suppliers of organic einkorn flour (in my opinion).  
Evidence Based Integrative Medicine