Skip to Content
Immune Boosting Chicken Soup Recipe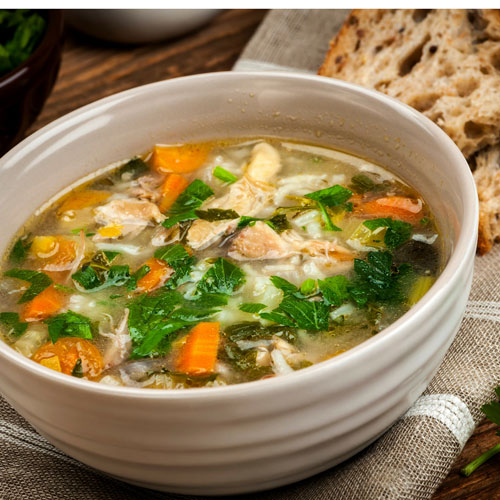 I created this recipe after coming down with a bad sinus infection. Not wanting to take antibiotics, I turned to my chemistry lab – my kitchen – to concoct a soup that would give my immune system a boost and clear my sinuses. It continues to do the trick for me and many of my patients.
Course Soup 
Prep Time 20 minutes 
Cook Time 30 minutes 
Total Time 50 minutes 
Servings 8 servings 
Author Rose Kumar M.D.
Ingredients
6 cups organic chicken broth or vegetable broth
2 cups water
1 breast cooked organic chicken omit for a vegetarian version
2-3 thighs cooked organic chicken omit for a vegetarian version
5 cloves finely chopped garlic rest for ten minutes after chopping
1-inch minced ginger
1 tsp turmeric powder
1 tsp black pepper
1/4 cup fresh lemon juice
2 heads bok choy or napa cabbage chopped
4 cups chopped baby spinach or kale
1 onion, chopped
2 tsp coconut or olive oil
1/4 cup chopped flat-leaf parsley
1/4 tsp cayenne
salt to taste
Instructions
Finely chop the garlic and let it rest for 10 minutes.
After the garlic has rested, heat the oil in a stockpot until hot but not smoking. Add the turmeric powder and black pepper and let sizzle for 10-20 seconds before adding the onions, garlic, and ginger.
Add a splash of chicken broth and sweat the onions until they are softened. Add the remainder of the broth and the chicken pieces. Let the soup simmer on low until the chicken is tender and cooked. 
Remove the chicken pieces and place them on a cutting board. Using two forks, pull the chicken apart into bite-size pieces. Return the chicken to the pot and salt to taste.
Add the bok choy or cabbage. Once it is tender add the lemon juice, cayenne, and pepper and simmer till flavors combine.
Add spinach or kale and turn the heat off. 
Add fresh chopped parsley just before serving.
For a VEGETARIAN VERSION, use vegetable broth and cubed and broiled tofu instead of chicken and chicken broth.
Evidence Based Integrative Medicine