Skip to Content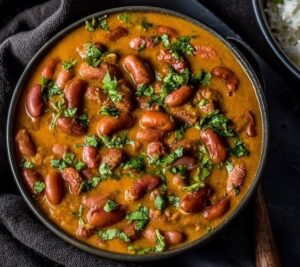 A wonderful, timeless, kidney bean dish.
Course Side Dish 
Cuisine Indian 
Prep Time 8 hours 
Cook Time 20 minutes 
Total Time 8 hours 20 minutes 
Servings 4 
Author Rose Kumar M.D.
Ingredients
1 cup dry kidney beans washed and soaked overnight in 4 cups water
4 cup water
1 med red onion
1 inch chopped fresh ginger
2 med tomato, chopped
1 tsp tomato paste
1 pinch asafetida
1 tsp cumin seeds
1 level tsp turmeric
1 tbsp olive oil
1 grind black pepper
1 tsp coriander
1 pinch cayenne
1 tsp salt
1 bunch cilantro, washed and chopped
Instructions
Soak the kidney beans overnight. Pour the water out and in the morning. If you have a pressure cooker, you can cook these in fresh 4 cups of freshwater for 15 min or until soft. Alternatively, you can cook these in a slow cooker for 6 to 8 hours till soft. (I typically rinse the water in the morning, place the beans in fresh water and leave them soaking till I get home from work in the evening). You can also soak them during the day rather than overnight till before dinner when you can wash the water out and cook them in the pressure cooker in the additional 4 cups of freshwater.
Fry cumin seeds in oil till they are dark brown. Add a pinch of asafetida. While the cumin seeds are sizzling, add the turmeric with a grind of black pepper. Add the onions and ginger and stir till the onions are slightly browned. Add the cooked kidney beans with water to give them a consistency of a thick gravy.
Add the rest of the spices and salt to taste. Add the tomatoes and tomato paste and let cook for 10 to 15 min on low heat till all flavors have incorporated.
Squeeze the juice of half a lemon and add chopped cilantro and serve.
Recipe Notes
This dish tastes great with rice and a dab of yogurt on the side.
This is a completely balanced plant-based meal with a sautéed vegetable such as kale or collards.
I do not recommend canned kidney beans for this dish. The flavor and the nutritional value are not as good with canned beans and the BPA from the cans which is a known carcinogen.
Evidence Based Integrative Medicine