Skip to Content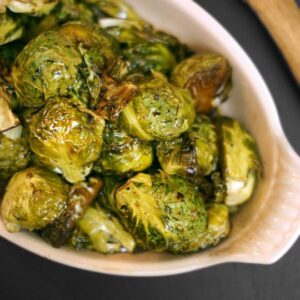 Servings: 4
Ingredients
1 pound of brussels sprouts
2 tablespoons extra virgin olive oil
4 cloves garlic finely chopped
salt and pepper to taste
1 Tbsp balsamic vinegar
Instructions:
Heat oven to 400 degrees.
Wash brussels sprouts and trim the bottoms.  Slice each one lengthwise into halves or quarters.  Place in a mixing bowl and add the remainder of the ingredients and toss with your hands till the brussels sprouts are coated.
Place a rectangle of parchment paper to cover a cookie sheet and place the coated brussels sprouts cut side down in a layer on the paper.  Roast in the oven for about 15 to 20 minutes till sprouts are brown and tender.
Serve as a side dish to your main meal.
Evidence Based Integrative Medicine