Skip to Content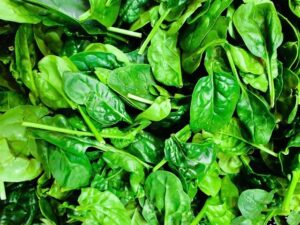 Servings: 6
Ingredients
2 tablespoons ghee or olive oil
8 cups of fresh spinach
1 inch of grated ginger
2 cloves garlic
1 medium onion chopped
1/8 cup lemon juice or 1 lemon
1 tsp salt
1/4 tsp garam masala
1/2 tsp cumin seed
1/2 tsp coriander powder
1/4 tsp red pepper
1/4 tsp turmeric powder
1/4 tsp black pepper
2-3 cp cooked rice or roti Indian bread
Optional ingredients:
A splash of non-dairy milk if creamier consistency is desired
1 cp fried tofu or paneer pressed homemade cheese available at the Indian grocery store
Instructions
Heat the oil or ghee in a pot.
Add cumin seed, turmeric, and black pepper.  Once the cumin seeds sizzle and turn a darker color, add onions, ginger, and garlic.
Fry until onions are translucent.
Add the remainder of the ingredients and cover the pot till spinach wilts, but is bright green.
Pour the ingredients into a blender and add the juice of 1 lemon or 1/8 cup lemon juice to the blender.  Cover the lid with a towel and hold it down.  Blend till ingredients are incorporated first on low then gradually raising the speed to high.
Pour back in the pot and let it come to a simmer.  Keep the lid on the pot as the spinach will splatter.
Optional: Add non-dairy milk, fried tofu, or paneer (pressed homemade cheese) and stir.
Add more salt to taste.
Serve with rice or roti (Indian bread).
Evidence Based Integrative Medicine