Skip to Content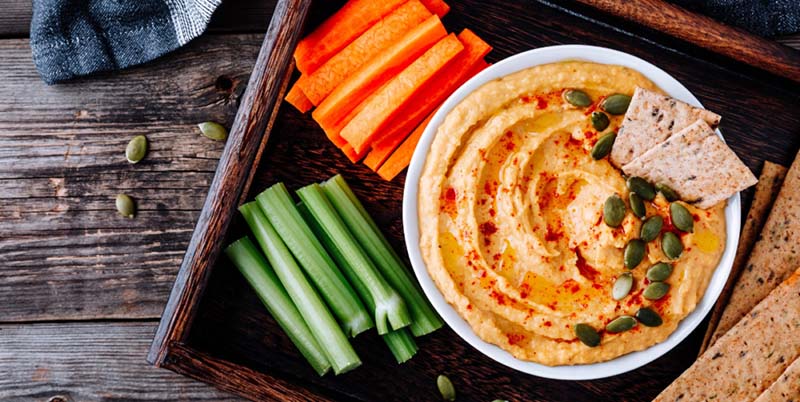 Ingredients
1 can chickpeas
Pulp of 1/4 to 1/3 medium-sized butternut squash or autumn harvest squash
4 medium cloves of garlic peeled and crushed and left to sit for 10 min
1/8 cup lemon juice
1 tsp paprika
1 tsp salt
3 tsp of tahini paste
1/2 tsp cumin
1/8 cup olive oil
1/8 cup of hot water
1 tsp powdered sumac
Instructions
Cut squash in half and scoop out seeds. Place cut side down on a parchment paper-lined cookie sheet in a 375-degree oven for about 45 min or till soft. Take out of the oven, scoop pulp from 1/4 to 1/3 of the squash into a bowl and let it cool down till it is warm (not hot).
Place the pulp in the blender with the rest of the ingredients except olive oil, water, and sumac in a high-speed blender and blend on high using the plunger to incorporate.
Stream the olive oil gently until incorporated then add water till a smooth consistency is reached. You may need to add a little more than 1/4 cup for desired consistency if you want it a bit thinner.
Once the hummus is smooth and spreadable, transfer it to a glass container. Sprinkle with powdered sumac and some extra paprika. Store in refrigerator for a week. Serve with vegetables or use as a spread on sandwiches or scoop into your salad for a side of protein.
Evidence Based Integrative Medicine