Skip to Content
Vegan Brownies with Zucchini or Beets (Gluten-Free)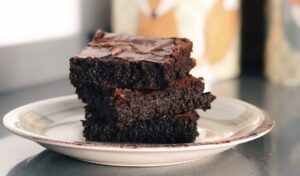 Servings: 8-10
Ingredients
2 cups of shredded zucchini or shredded raw beets
1 1/2 cup buckwheat flour
1 cup coconut sugar
3/4 cups vegan chocolate chips or 1/2 cup cacao nibs
1/3 cup raw cacao powder
1/2 cup coconut oil (melted)
1/4 cup non-dairy milk (hemp)
2 flax eggs (2 Tablespoon of flax meal mixed with 5 tablespoons of water)
2 tsp of vanilla extract
1/4 tsp cinnamon
1/4 tsp shelled cardamom seeds
1 tsp baking powder
1/4 tsp salt
1 tablespoon mushroom powder (optional)
chopped walnuts or pecans (optional)
Instructions:
Preheat oven to 350 degrees F
In a large bowl, whisk oil, sugar, flax eggs*, cinnamon, vanilla and cacao powder until combined.
*To make the flax egg, mix 2 tablespoon of flax meal and add it to 5 tablespoons of water.  Let sit for 10 min till it develops a gelatinous consistency.
In another bowl mix flour, baking powder and salt.  Once mixed, add the shredded zucchini or beets.
Add the oil and sugar mixture to the flour mixture.  Mix well until just incorporated but do not over mix.  Pour batter into a parchment paper lined 8×10 inch pan.  Smooth the batter with a spatula into an even layer.  Sprinkle chocolate chips/cacao nibs and chopped nuts on top and press them gently into the batter.
Bake for 30 min
Once cooled, cut into 1 to 2 inch squares.
These brownies are nourishing and rich in anti-oxidants.  The mushroom powder adds an additional immune boosting effect and renders an earthy flavor.  They taste great with 3 ingredient ice cream:
VEGAN VANILLA ICE-CREAM
Servings: 4
Ingredients
2 cups of sliced frozen bananas
1/4 tsp of shelled cardamom seeds
1 tsp of vanilla extract
2 tablespoons hemp or non-dairy milk
Instructions:
Put all ingredients in a high speed blender and mix on medium high till incorporated.  Add a few tablespoons of non-dairy milk to incorporate.  Keep scraping down the sides of the blender with a spatula till a smooth texture results. Scoop and serve plain or on vegan brownies.
Evidence Based Integrative Medicine