Skip to Content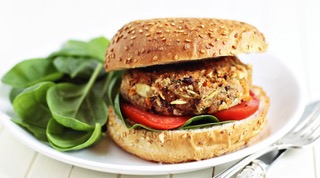 Servings 6 servings
Ingredients
½ c garbanzo beans, soaked overnight
1 ½ c water
1 medium shallot or small onion
4 cloves garlic
1 t turmeric powder
¼ t red pepper flakes
2 medium carrots
½ c shredded beet
¾ c oat flour (You can pulse oats in the food processor or purchase the flour.)
¾ T salt
1 t lemon pepper
¼ c sunflower seeds
Instructions
Decant water from garbanzo beans, wash and add to pressure cooker with water. Pressure cook for 10 min. Decant the water and set it aside.
Roughly chop onion or shallot and place in a food processor. Fine chop garlic and let sit for 10 min.
Cut carrot into thirds and place in a food processor with a chopping blade. Pulse till evenly chopped. Add the remaining ingredients except for oat flour and sunflower seeds. Add oat flour a little at a time till the mixture begins to come together. Now pour it into a large bowl and add sunflower seeds and enough oat flour till you can form patties that hold together. Add water or more oat flour to achieve this.
Heat a flat-surfaced pan on medium heat and add a tablespoon of olive oil, or coconut oil, or ghee till just melted. Spread on the pan. Drop patties on the melted oil and press down gently with a spatula. Let them cook for 5 to 6 minutes or until slightly browned. Flip them over and repeat.
The veggie burgers can be stored in the freezer (each separated by wax paper to prevent sticking and placed in a glass storage container) as a sandwich or burger filling and can also be used as a source of plant protein in a salad.
Evidence Based Integrative Medicine