Skip to Content
Chocolate Chip (Nib) Cookies {Vegan and Decadent!}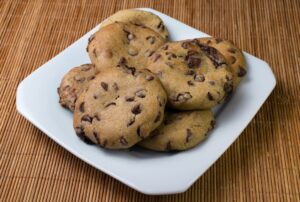 Servings: 12 – 15 cookies
Ingredients
2 cups fine ground blanched almond flour
1/4 teaspoon baking soda
1/4 teaspoon sea salt
1/4 – 1/3 cup raw cacao nibs
1/4 cup coconut oil, melted
1/4 cup honey or coconut nectar
1 tablespoon gluten free vanilla extract
1 tablespoon full fat canned coconut milk
Instructions:
Preheat oven to 300 degrees F
In a large bowl, combine dry ingredients except nibs.
In a smaller bowl, combine liquid ingredients.
Add liquid to dry ingredients, and fold in nibs (dough will be much less dense than conventional cookie dough).
Line a baking sheet with unbleached parchment paper.
Scoop heaping tablespoon amounts of dough, and form loosely rolled balls.
Place on cookie sheet about two inches apart, and LIGHTLY press down tops of dough balls to flatten to about 1/2 cm in thickness.
Place another cookie sheet under the one with the cookies to help prevent burnt bottoms.
Bake for about 11-15 minutes.  Careful not to over bake as the outsides of the cookies will become "tough" and bottoms will be burn.
Allow to set and cool for about 5 minutes before eating.    
Evidence Based Integrative Medicine