Skip to Content
Dr. Kumar's Green Smoothie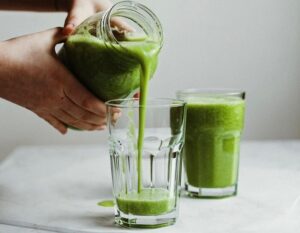 Course Breakfast 
Servings 2 servings 
Author Rose Kumar M.D.
Ingredients
2 cups frozen power greens**
1/8 cup lemon juice
½ granny smith apple chopped
2 to 3 cubed and frozen 1-inch pineapple or mango chunks ***
1/3 frozen banana
1/4 cup hemp seeds
1 tsp chopped ginger
3 to 4 mint leaves (optional) 
1 tsp maca powder (optional) 
1-2 seeded mejool dates
1 and ½ cup water
6 cubes of ice
1 tsp of amla powder and 1/2 tsp of moringa powder (optional for antioxidant support) 
Instructions
Place all ingredients in a blender on high for 3 to 4 minutes or till ice is blended
Recipe Notes
*Use only organic ingredients
** I buy a bag full of prewashed power greens and place it in the freezer for smoothies.
***Cut a fresh pineapple into chunks, and freeze them for smoothies, or buy pre-cut frozen organic pineapple or mango chunks and use them instead. 
****Slice peeled overripe bananas and place slices flat on parchment paper on a cookie sheet in the freezer for 2 hours or overnight.  Once frozen, place in a plastic bag and freeze for future use. 
Evidence Based Integrative Medicine