Skip to Content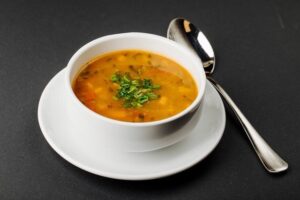 Servings 4 
Author Rose Kumar M.D.
Ingredients
1 cup of dry red lentils washed
4 cups water
2 cloves of garlic minced
1 onion finely chopped
2 medium-sized carrots chopped into ½ inch pieces
1 tsp cumin dry roasted till fragrant *
1 tsp coriander seed dry roasted till fragrant *
Pinch of asafetida
1 tsp salt or 2 tsp of fish sauce
2 bay leaves
3 tablespoons chopped cilantro
1 tsp apple cider vinegar
Instructions
Wash the lentils with water a few times in a mesh sieve or a bowl and decant the water. Place all ingredients and 4 cups of water, except cilantro and apple cider vinegar in a saucepan and boil till lentils are soft.
Add salt to taste. (For a vegan version would just use salt and no fish sauce).
Add apple cider vinegar.
Garnish with cilantro and serve.
Recipe Notes
*Combine cumin and coriander seeds dry roast on the stove and grind in a mortar/pestle
Evidence Based Integrative Medicine